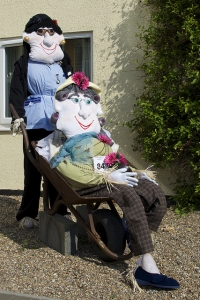 The residents of Ealing House took part with gusto in the Martham Scarecrow Festival.
As new owners, Vince and Jenny Ewing had never been part of such an event before, but it provided the residents with many various activities from designing and constructing their entries.
These included cardboard scarecrows displayed in the upstairs front windows, along with six scarecrows, and a male and female "resident" scarecrow who were in the safe hands of their carer scarecrow! It also prompted a flurry of cake making when the residents decided to boost their funds by selling them to passers-by as they sat outside in the wonderful May sunshine.