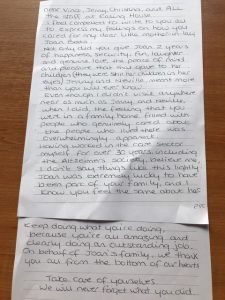 "We can't thank you enough for the care and love you gave our dad while he was at Ealing House. A big Thank you to you all"
" Thank you for looking after Mum – you let her be part of the Ealing House family – Truly special people"
"Words can not express how I feel about my mum, but my Thanks to you all comes from my heart"
"Please accept our sincere thanks and gratitude regarding the exceptional care and understanding you gave our dad. You are amazing people we cannot thank you enough. Dad loved his home at Ealing House and all the staff who made his last years so comfortable. Thank you from the bottom of our hearts".
A big Thank you for looking after my mum. She was a very happy lady there. I also thank you for the many photos I have of her taken at the home. Thank you for all you have done."
"I would like to say Thank you to everyone for keeping an eye on …… when I was away last week. Also an even bigger Thank you for your consideration and care when …… was taken ill on Sunday. He has never had such concern shown to him and is extremely appreciative to you all"
"A Big 'Thank you' for taking care of my mum during her final days it meant a lot to know she was with you. You are an amazing team and we can't thank you enough for all that you have done over the past 18 months."
"We would like to offer our sincere thanks for the care that my mum received during her stay at Ealing House.
Every single one of the staff and volunteers were always kind, considerate, welcoming and extremely professional.
We are in no doubt that the quality of care not only extended her life expectancy but also ensured that she spent the last 21 months being socially active with a real quality of life.
We would especially like to thank the staff for the kindness, consideration and compassion shown to us during her last few days and at her time of passing"
"Thank you all very much for the loving care you gave to my mum whilst she was with you at Ealing House. Also for making her family and friends so welcome when they came to visit"
"We would like to Thank everyone for the excellent care that my mum has received over the last seven years whilst at Ealing house.
We also want to Thank you for all the supportive care and excellent attention given to mum on her final week on this earth, along with the kindness and empathy shown to us during this difficult time. You are all a credit to the community and all the senior citizens under your care"
"Sincere Thanks to all the staff for the care and happiness you brought to my mother. I really do appreciate all that you did for her"
"To all the staff at Ealing House- just a note to thank you for all the good care that you gave my Nan during her stay. Putting Nan in a home was a horrible decision to make but I know a good decision that we made was choosing Ealing House. You are an amazing team and you treated Nan with respect and dignity from the day she came to live with you until the night she passed away."
"A big thank you for looking after my Mum. She was a very happy lady whilst she lived there- for which I thank you for all you have done."