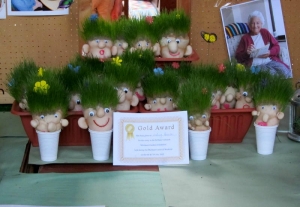 It was 'Green fingers at the ready', at Ealing House when the residents were invited to join in the carnival weekend of fun by taking part in the St Mary's Church garden competition.
There were two categories of entry, miniature garden and 'fun' gardens. This set the residents their challenge. It provided several weeks of entertainment and preparation as everyone discussed their ideas for each category. It was then a case of turning the plans into reality this provided much fun and laughter, and a real 'buzz' emanating from within the home.
The display went up in the church and the residents were delighted to receive a gold award for all their achievements.